The government of Sri Lanka has filed an appeal before the Riyadh Court in Saudi Arabia, on behalf of the Sri Lankan female domestic worker who was recently sentenced to be stoned to death after being found guilty of having a clandestine affair, the Foreign Employment Ministry said.
The Ministry sources said the woman was married and having children in Sri Lanka when she was convicted for adultery with a Sri Lankan youth employed in Saudi Arabia. After she was produced before the Riyadh Court, the woman had pleaded guilty … The youth who had the affair with Lankan woman had been given 100 lashes as punishment, Foreign Employment Minister Thalatha Athukorala's Media Secretary Nalin Rajapaksha said…. – Daily Mirror, Sri Lanka.
Do you know what Saudi is going to do?
They're going to dig a hole. Then they're going to bury a Sri Lankan woman. Chest-high.
Then people are going to throw rocks at her until she dies. It isn't going to be a quick death. She will feel the rocks shattering her teeth. She will feel them smash her skull. She will die crying and in pain.
Think about that for a moment. There are many ways of killing a person. Stoning them is one of the oldest (check the Old Testament) and the most barbaric practices in legal use today. Not just because it's a terrible way to die, but also because it turns a whole crowd into a mass or murderers.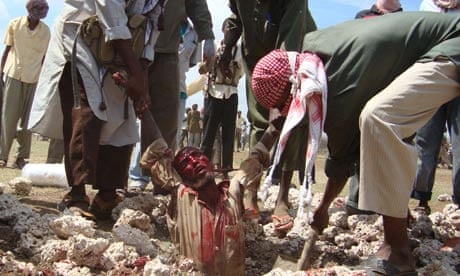 This is what it looks like. Picture a Sri Lankan woman in there and you're good to go.
I don't get this. The world and its media are up in arms over "human rights violations". Governments threaten each other over "atrocities". We have protests for everything. Cruelty to women. Cruelty to gay people. Cruelty to children. Cruelty to pigs. Cruelty to chickens. The United States, that fine purveyor and dispenser of bombs and painful death to thousands of innocent civilians worldwide, raves about Sri Lanka's violations of human rights protocols and threatens to bring our Presidents to court.
And yet no-one wants to look at fucking Saudi and point that they're literally bludgeoning people of other nations to death.
Oh, we're fine with it. Half the people, good Sri Lankans all, I know have vacationed in Saudi (or plan to). You, the United Nations actually made them the Chair of Human Rights.  All you people working at the UNHRC: do you fucking understand what that means? It means you elected one of the most extremist, one of the most homophobic, one of the most racist societies on Earth to represent your HR efforts. World peace, my left cheek.
Would you like stories? 
Let's talk about Raif Badawi, a blogger who wrote about free speech. He was sentenced to 10 years in prison and 1,000 lashes.
Let's talk about Laila Bint Abdul Muttalib Basim, dragged through the streets of Mecca, held down by four police officers and hacked to death as she screamed "I did not kill. I did not kill. I did not kill."
Let's talk about the infamous "eye for an eye" of Sharia law that orders tooth extraction, flogging, eye gouging, amputation, and in one case in 2013, surgically induced paralysis. Let's talk about the "temporary marriage contracts" that legalize full-scale sexual slavery and the ability for a Saudi to violate every possible human right.
Let's talk about the  110 people beheaded by August this year. ISIS (or the Islamic State, as they call themselves) beheaded 65. In fact, let's see how Saudi Arabia compares with ISIS when it comes to punishment, shall we?
Yes: Saudi's crime and punishment system is the same as those terrorists you're waging war on. Where's the outcry? Where's the joint UK-US invasions? Where's the hashtagging by the well-meaning pseudo-intellectual hippies you employ for your grass-roots campaigns?
Or have I gotten something wrong here? Is your "freedom and democracy" reserved only for those who don't have enough oil? Are your human rights allegations reserved only for those nations without petrodollars?
You, United Nations. You're a farce.  You and your bloody simpering SDGs sit there on your high thrones on the rotting corpses of the rest of the world. Your ambassador for Human Rights is the ambassador for legalized murder, rape, and terrorism. You should be dismantled and cast to the dogs. Or, better yet – turn yourselves in for war crimes. This time, we'll judge.
---
PS: Before someone shouts "Islam is to blame!" let me point out that a) stoning is suggested in the Old Testament, not in the Quran  and that b) there are Muslim countries that do not stone people or chop off their hands.  As the journalist Max Rodenbeck notes, out of the world's 49 Muslim-majority states, only six preserve this barbaric tradition.
Pity we picked the barbarians to oversee Human Rights, eh?